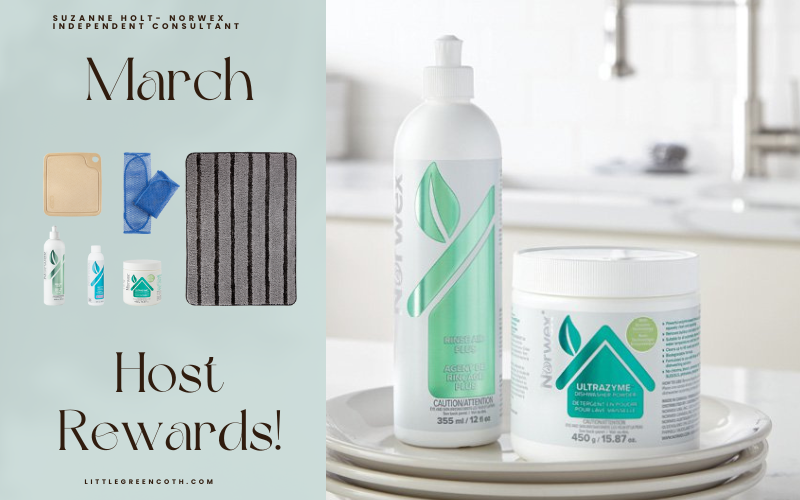 When you host a Norwex party in March, you could earn products to help with your day to day in the kitchen!
After a long day of work, the last thing you want to come home to is a dishwasher with a detergent pod that didn't deploy. You know the dishes only got half washed and that now they will need to run through again, putting the dinner dishes behind. Of course, we need to adjust when that happens, but no one wants that problem consistently. When the day to day tasks are moving smoothly, everything else seems to fall in to place.
This is one of the reasons I love working with Norwex products- the products are effective, the chores get done as expected. As a Norwex host in March, you can earn effective and toxin free products to help the dishes get done and other prep work to go smoothly. Let's see what's happing in March!
STAR 1 – You get rewarded for how many BUYING GUESTS you have! You will receive free shipping and host credits up to $40.
STAR 2 – Party Sales – You get rewarded with 10% or 12% of total sales as Host Dollars to spend as you like.
STAR 3 – Party Bookings – you get rewarded depending on how many people decide to book off your party. Here is the breakdown:1 booking= light grey EnviroCloth with blue trim, 2 bookings= weathered wood Window Cloth, 3 bookings= a Dusting Mitt and Optic Scarf.
STAR 4 (This is the BIG one!!!) – Once you reach the fourth star, you will qualify for lots of FREE product! To qualify for the fourth star, you will need to have at least 3 buying guests, a $350-1,000 party total minimum and at least 1 booking. It might seem like a lot of pieces to come together, but I love coaching my hosts so they have the best chance of reaching their goal. At the $350 level, you'll receive the Ultrazyme Dishwashing Powder and Rinse Aid. This combination works effectively to make sure your dishes come out sparkling clean without using chemicals. Ultrazyme uses enzymes to breakdown to debris; and the Rinse Aid will make sure no water spots are leftover. Once you reach $550, you'll earn the blue Dish Cloth and a bottle of Biozyme Dish Soap Concentrate. Whether you hand wash all the time or just selectively, you'll love how quickly the enzymes in Biozyme loosen up the debris on your dishes. When your party total reaches $750, you'll earn the mini Cutting Board, just the right size for chopping up snacks. If your party total reaches $1000, you'll earn the LE Large Sized Entry Mat. You'll love getting this mat before the springtime mud really gets going! It has a combination of stiff bristles and microfiber to catch dirt and toxins. Which level do you hope to reach?
March Norwex hosts will also be the first to show off the new spring Norwex products! Check them out in this post! During spring cleaning season, I love to show how to do your spring cleaning toxin free with Norwex! It's a great time to get together, troubleshoot, and stock up!
 Contact me today to become a March Norwex host!