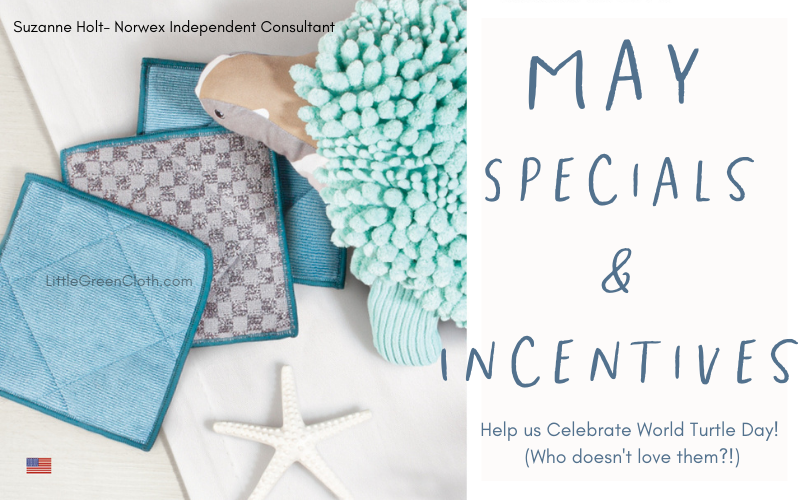 It's finally time to get ready for summer! Norwex has been thinking ahead and has deals on items that will help you get your home and body ready without compromising with chemicals. This month, between the Customer Specials, Spend & Get, and additional Norwex Mission Bundle, you're sure to get a deal on things you'll need for a toxin free summer! This is also a fun month to host since friends and family might need to stock up before they head out on summer adventures. Let's check out all the deals this month!
Through May, you have the opportunity to save on a few different deals! With the Featured Products, you can help us celebrate World Turtle Day on May 23rd with the Pet-with-a-Purpose Turtle. This little guys is so cute, made from reused microfiber extras, and a portion of the proceeds go to Washed Ashore, a charitable organization that makes art from marine debris. Make sure so grab some teal Enviroscrubs that are on sale too! With the Spend and Get deals this month, you can shed any remaining winter skin and get a glow going for summer. When you spend $85, you can purchase the limited edition small Body and Face Cloths for just $5! When you spend $99, you could buy the Exfoliating Mitt for just $5. When you spend $110, you can purchase the Back Scrubber for $10. It's a great way to get all the hard to reach places. Norwex is also offering an extra deal this month- the Norwex Mission Bundle. Aren't the Norwex deals great this month?
Check out all the flyers below and start your Norwex order before the month is done!