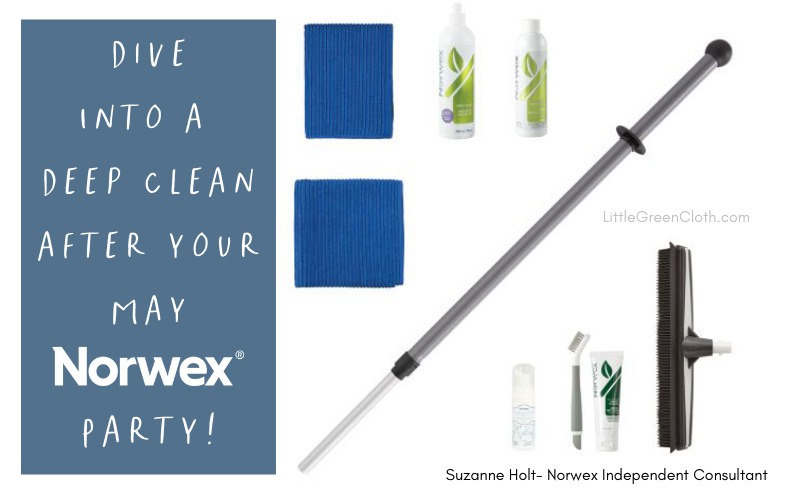 With summer on the horizon, May is a great time to wrap up spring cleaning and set up your summertime surroundings! It's time to get your patio ready, get the grill out, and spruce up the summer toys. Through this month, Norwex has a bunch of products that May hosts could earn that will help make deep cleaning and odd jobs easier and toxin free. This is also a great time to host before everyone disappears for their summer fun. Let's see everything a May Norwex party has to offer!
STAR 1 – You get rewarded for how many BUYING GUESTS you have! You will receive free shipping and host credits up to $40.
STAR 2 – Party Sales – You get rewarded with 10% or 12% of total sales as Host Dollars to spend as you like.
STAR 3 – Party Bookings – you get rewarded if someone at your party decides to book a party themselves, and you get a FREE Amethyst Lace Window Cloth, Amethyst EnviroCloth & Dusting Mitt, and a petite Charcoal Grey Optic Scarf. I love that there are so many ways to earn at your Norwex party, and the best is yet to come!
STAR 4 (This is the BIG one!!!) – Once you reach the fourth star, you will qualify for lots of FREE product! To qualify for the fourth star, you will need to have at least 3 buying guests, a $350-1,000 party total minimum and at least 1 booking. It might seem like a lot of pieces to come together, but I love coaching my hosts so they have the best chance of reaching their goal. At the $350 level, you'll earn a Navy Kitchen Cloth and Towel Set and a bottle of Lavender Rosemary Dishwashing Liquid. The Dishwashing Liquid is a limited edition scent that will make washing those water bottles for summer activities a little more exciting! At the $550 level, you'll earn a bottle of Heavy Duty Degreaser, in addition to everything earned at the $350 level. The Degreaser is amazing at breaking down grease messes at the stove, grill, and more! Once you get started with this stuff, you'll have a hard time stopping! Thankfully, it's a dilatable solution- one bottle equals five bottles when diluted! At the $750 level, you'll earn the Utility Brush and All Purpose Cream Cleaner. These are must haves for deep cleaning! When you're not sure what is stuck on a surface, just scrub the Cream Cleaner in and you'll be good to go! At the $1000, in addition to everything earned at the $750 level, you'll earn the Rubber Broom with Handle. You'll love having this around to brush off your patio rug, boat, etc. and squeegee the garage, kitchen, and more! Think of all the jobs you can tackle after hosting this month!
Are you ready to plan your April Norwex party?
 Contact me today to become a May Norwex host!