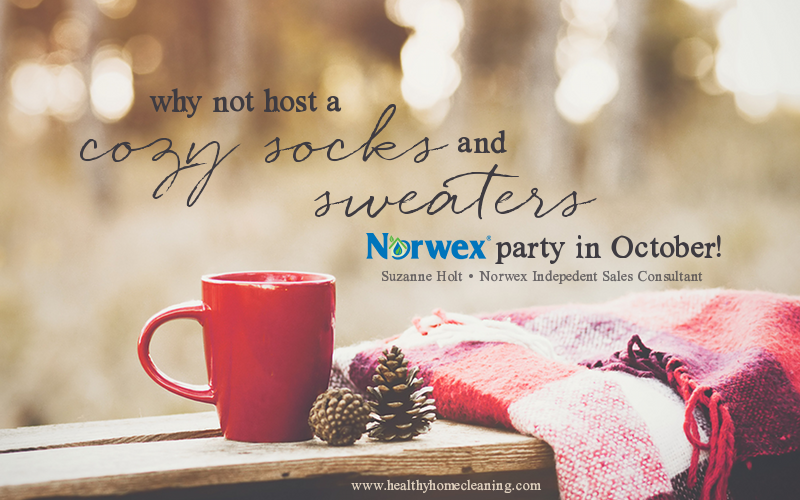 October is the time to settle in and get cozy! Do you have a favorite sweater or pair of socks for Fall? I love getting groups together this time of year so we can curl up in cozy clothes and blankets with a warm drink for a good chat. When you become an October Norwex host, you could add another layer of fun to your get-together! This month, Norwex hosts could earn the new Rubber Broom Attachment and Telescopic Mop Handle! This new Fall 2021 product uses electrostatic action to remove pet hair and other fuzzies from carpet and upholstery and the squeegee side can quickly dry floors and glass. Plus, the bristles can be easily washed so it doesn't get gross like regular broom bristles. Let's check out all that October Norwex hosts could earn!
STAR 1 – You get rewarded for how many BUYING GUESTS you have! You will receive free shipping and host credits up to $40.
STAR 2 – Party Sales – You get rewarded with 10% or 12% of total sales as Host Dollars to spend as you like.
STAR 3 – Party Bookings – you get rewarded if someone at your party decides to book a party themselves, and you get a FREE Amethyst Lace Window Cloth, Amethyst EnviroCloth & Dusting Mitt, and a petite Charcoal Grey Optic Scarf. I love that there are so many ways to earn at your Norwex party, and the best is yet to come!
STAR 4 (This is the BIG one!!!) – Once you reach the fourth star, you will qualify for lots of FREE product! To qualify for the fourth star, you will need to have at least 3 buying guests, a $350-1,000 party total minimum and at least 1 booking. It might seem like a lot of pieces to come together, but I love coaching my hosts so they have the best chance of reaching their goal. At the $350 level, you'll earn 1 small Body and Face Pack, an Orange Blossom Gel Hand Soap, and a petite pink Optic Scarf. Once your total reaches $550, you will qualify for a container of Cleaning Paste. If you make it to the $750 level, you'll earn the new Rubber Broom attachment and a Telescopic Mop Handle! What jobs will you use this new product for? Once you reach a $1000 party total, you'll earn everything at the lower levels in addition to a Large Graphite Entry Mat! Which level do you hope to make it to this month? 
Are you ready to become an October Norwex host and try out the new 2021 Fall products? Contact me today to schedule!