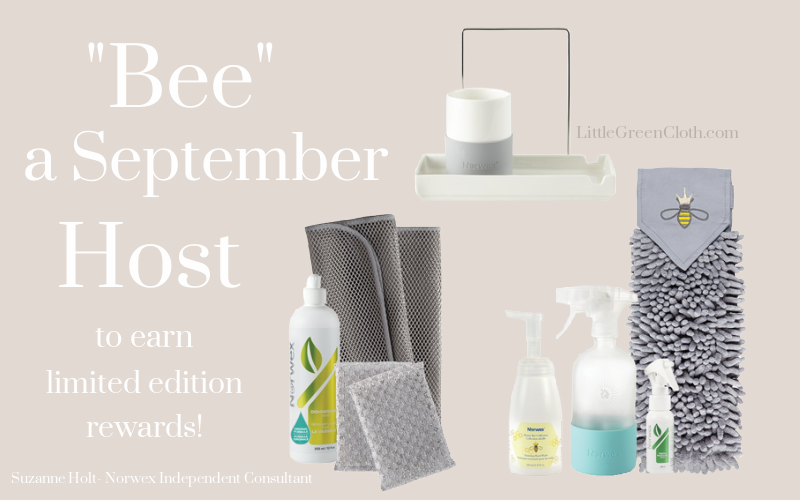 Good bye Summer, hello Fall!
Or at least fall routine! Even though it's hard to let go of summer, getting back into the usual routine feels good, especially when it includes get-togethers with friends! One of the reasons I love Norwex parties is that it creates a space where friends can reconnect by enjoying a product they all love! The new Fall 2021 Catalog is still pretty fresh so there is a good chance you could be the first to show off the new Fall 2021 products to your friends! A September Norwex host also has the chance to earn some awesome products, including the limited edition Honey scented Foaming Hand Soap and the Queen Bee Chenille Hand Towel. Let's check out all that Norwex has to offer hosts!
STAR 1 – You get rewarded for how many BUYING GUESTS you have! You will receive free shipping and host credits up to $40.
STAR 2 – Party Sales – You get rewarded with 10% or 12% of total sales as Host Dollars to spend as you like.
STAR 3 – Party Bookings – you get rewarded if someone at your party decides to book a party themselves, and you get a FREE Amethyst Lace Window Cloth, Amethyst EnviroCloth & Dusting Mitt, and a petite Charcoal Grey Optic Scarf. I love that there are so many ways to earn at your Norwex party, and the best is yet to come!
STAR 4 (This is the BIG one!!!) – Once you reach the fourth star, you will qualify for lots of FREE product! To qualify for the fourth star, you will need to have at least 3 buying guests, a $350-1,000 party total minimum and at least 1 booking. It might seem like a lot of pieces to come together, but I love coaching my hosts so they have the best chance of reaching their goal. At the $350 level, you'll earn 1 Dishwashing Liquid, 1 Dish Cloth, and 1 Spirisponge pack. Once your total reaches $550, you will qualify for 1 Honey scented Foaming Hand Wash, a mini Fresh Produce Wash, and a LE Queen Bee Chenille Hand Towel. And if you bump up to $1000 you will earn a Porcelain Sink Organizer! It is such a pretty and practical product! Which level do you hope to make it to this month? 
Are you ready to become a September Norwex host and refresh your kitchen with limited edition products? Contact me today to schedule!