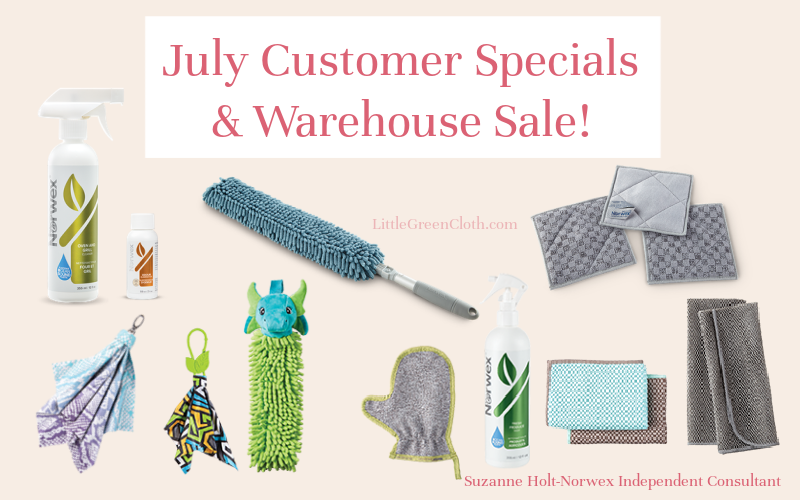 I hope you're off on an adventure to celebrate Fourth of July weekend! I love having this time to create memories with family, relax, and remember. Fourth of July sales are nice, but we're usually too busy to check them out. Thankfully, Norwex's Customer Specials and Warehouse Sale will be happening all month so there's no fear that you'll miss out. Let's check out what Norwex has to offer in July!
With the Brighter Clean deal, you can save 15% on the limited edition geometric Optic Scarf and Dragon Pet-to-Dry. This one could be a fun back-to-school gift to stash away for September! With the Food Fresheners deal, you can save 11% on the Limited Edition Fruit and Veggie Scrub Mitt and Fresh Produce Wash. These products will help you prep garden produce quickly. With the Kitchen All-Stars deal, you can save 11% on the limited edition Large Mushroom and Sea Mist Counter Cloth and 2 pack of graphite Dish Cloth. For only $39.99 you can replace paper towels in your kitchen! With the Shine in Style deal, you'll be able to keep your sunglasses clean while on the go with the Limited Edition Snake Print Optic Scarf.
This month there are 3 Spend and Get deals! When you spent $99, you can purchase the pack of 3 EnviroScrubs for $10, saving $14.99. When you spend $110, you can purchase the Oven and Grill Cleaner & mini Odor Eliminator for $15! If you spend $120, you can purchase the 2 Sided Teal EnviroWand for only $20! I love the big discounts on these!
Finally, make sure you check out the Norwex Warehouse Sale from now through August 1st! You can get a bunch of limited edition products, including the latest Spring 2021 products, on sale while supplies last!
I hope you enjoy all the deals happening in July! Happy shopping!