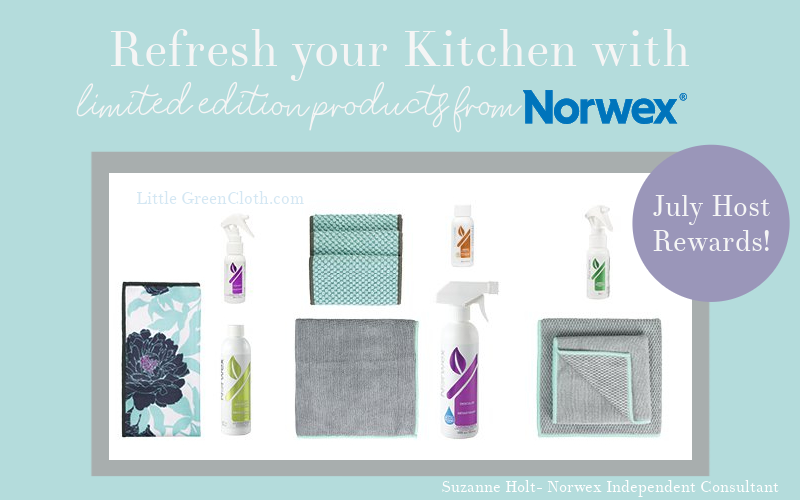 By now, summer schedules are in full swing with vacations and sports tournaments! While it might be a struggle to get all your friends in one place, they could still appreciate a digital or catalog party to restock on their favorite products. July has a whole line up of limited edition Norwex products that will have your Norwex savvy friends saying, "I've never seen this in the catalog!" You could refresh your kitchen Norwex products with a whole new line up, maybe decorating with them for spring/summer. Let's check out how to get all those products and what Norwex is offering in July!
STAR 1 – You get rewarded for how many BUYING GUESTS you have! You will receive free shipping and host credits up to $40.
STAR 2 – Party Sales – You get rewarded with 10% or 12% of total sales as Host Dollars to spend as you like.
STAR 3 – Party Bookings – you get rewarded if someone at your party decides to book a party themselves, and you get a FREE Amethyst Lace Window Cloth, Amethyst EnviroCloth & Dusting Mitt, and a petite Charcoal Grey Optic Scarf. I love that there are so many ways to earn at your Norwex party, and the best is yet to come!
STAR 4 (This is the BIG one!!!) – Once you reach the fourth star, you will qualify for lots of FREE product! To qualify for the fourth star, you will need to have at least 3 buying guests, a $350-1,000 party total minimum and at least 1 booking. It might seem like a lot of pieces to come together, but I love coaching my hosts so they have the best chance of reaching their goal. At the $350 level, this package includes 1 Heavy Duty Degreaser Concentrate, 1 LE peonies pattern Window Cloth, and the mini Descaler. Once your total reaches $550, you will qualify for a regular sized bottle of Descaler, an LE EnviroCloth with sea mint trim, LE Sea Mint/Mushroom Counter Cloths, and a mini Odor Eliminator. And if you bump up to $1000 you will earn a LE Sea Mint Trim Textured Kitchen Cloth and Towel and a mini Fresh Produce Wash! Which level do you hope to make it to this month?
Are you ready to start planning your Norwex party in July and refresh your kitchen with limited edition Norwex? Contact me today to schedule!