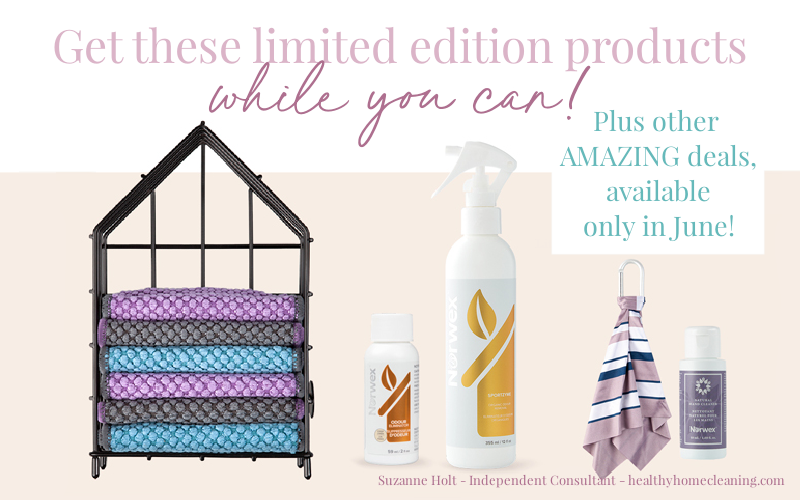 This month, there are 4 limited edition Norwex products up for grabs!
June is one of Norwex's favorite months because it's their birthday! To celebrate, Norwex has so many awesome things happening! There are 3 Spend & Get specials, 4 Limited Edition Norwex products, and it is mop month! Plus, Norwex is offering a "Mystery Bundle!" Let's check out all the deals!
With the Clean is the House deal, you can save 10% on the limited edition Counter Cloth and Box Set! This set contains 6 cloths- 2 graphite, 2 teal, and 2 eggplant. This set is only $52.99, and can replace paper towel usage in your home! With the Odor Patrol deal, you can save 11% on Odor Eliminator and a mini Sportzyme! These products will keep smells in check! With the Smudge Stoppers deal, you can save 10% on the limited edition cupcakes Window Cloth and LE Bamboo Viscose EnviroCloth. You can join in on the birthday fun with the cupcake design for only $36.49! With the Hands On Clean deal, you'll be able to keep your hands and sunglasses clean while on the go!
This month there are 3 Spend and Get deals! When you spent $99, you can purchase the Microfiber Cleaner Laundry Booster for $12, saving $12.99! When you spend $110, you can purchase the Mattress Cleaner for $15, saving 50%! If you spend $125, you can purchase the LE Citrus Dryer Balls for $15, saving $14.99! I love the big discounts!
Finally, I am so excited to see what you get in the Mystery Bundle! It only costs $49.99, but contains a selection of products valued at more than $100! You can choose from 4 different bundles too! Which one will you try?
I hope you enjoy all the deals happening in June! Happy shopping!